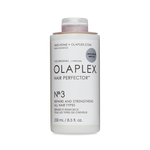 N°3 Hair Perfector
Perfecting and repairing hair care.
N°3 Hair Perfector hair care is not a conditioner. Le N°3 is a bonding treatment at home. Suitable for all hair types, patented Olaplex technology restores broken bonds. The result: hair that's stronger than ever. Vegan (without ingredients of animal origin), without parabens, without sulfates and without phthalates.
Repairs damaged hair and broken bonds with Olaplex technology
Apply to damp, towel-dried hair. Leave to act for at least 10 minutes; 20-30 minutes for weakened hair. Apply N°4 BOND MAINTENANCE SHAMPOO and N°5 BOND MAINTENANCE CONDITIONER. Repeat the treatment 1 to 2 times a week for healthy hair, 2 to 3 times a week for weakened hair.
Eugène Perma is the official distributor of Olaplex for
France and Luxembourg only.